How to Deposit With Dafabet Asia? What can I do to deposit in my Dafabet Account? What method can I use? Can I deposit Dafabet from my bank account? If you don't have any account of Dafabet, you can register with us by click on the Logo or the Link below
Step 1: Log In Your Account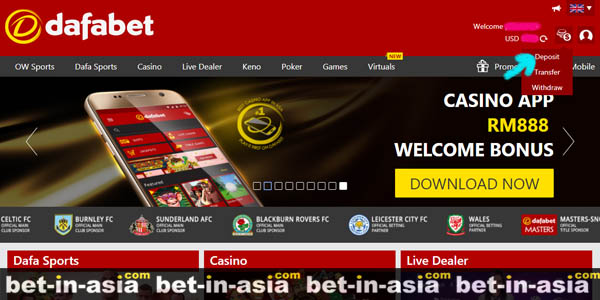 Log in your account that you just created, or your existing account. Then click on the Money Icon and click the Deposit.
Step 2: Select the method you want to use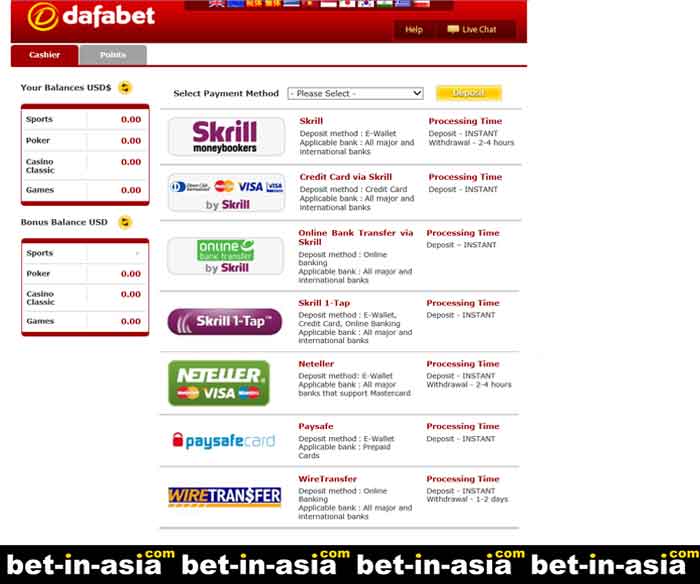 The for Most of the countries only ways to deposit with Dafabet are use Skrill or Neteller or Ecopay. As you see the image above, there is no other options even you have Visa Or Master Card.
Step 3: Using Srill Method
If you don't have any Skrill account please register and deposit money to your Skrill first before you use this method of Dafabet.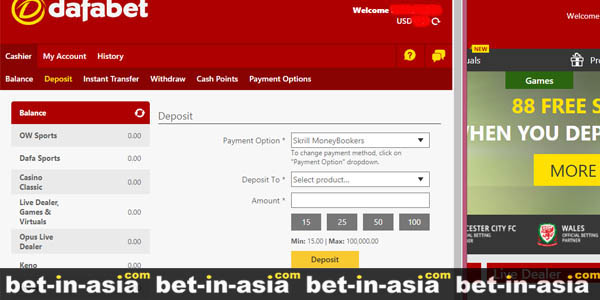 If you click deposit by Skrill, you will likely see the page above.
– Payment Option is the method you will use to deposit, so choose what you can access. For an instant, if I choose Skrill Moneybookers, I need to have an account of Skrill and some balance in.
– Deposit To is what part of your account (Sportbook, Casino, Live Dealer, Keno, Visaul) you want to have balace to play. Example I want to deposit money to my Dafabet Sport because I like to be on English Premier League.
– Amount is how much you want to put money in your account. The minimum of amount is 15 USD or equal currency. Don't forget, if you want to claim your first time deposit bonus (up to 100 USD) deposit directly 100 USD or equal currency so that you can have 200 USD to play.
– Click on Deposit when you complete everything. Then you will have a pop-up page that you need to complet Skrill account and Password.
Check out our step-by-step guide to claim bonus.
Step 3: Using Neteller Method
Neteller is not different from Skrill but for some countries it's easier. If you don't complete this deposite form corectly you may not able to deposit. So please read our explaination below carefully.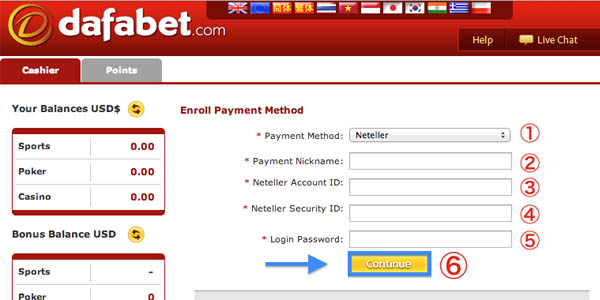 1. Is the set Neteller by default, don't need to change if you want to use Neteller
2. Payment Nickname: It's your Dafabet Username (what you used to log in Dafabet), not the Neteller's unsername
3. Neteller Account ID: It's the ID Number of Neteller, not your email account.
4. Neteller Security ID: It's the 6 Degit of Neteller Security ID. If you forget it, go to your Neteller account and reset this Security ID.
5. Login Password: It's your Password to Log in Dafabet Account, not password of Neteller.
6. Click continue when you complete all, then you will have a pop-up page that you need to complet Neteller's Account ID/Email and Neteller's Password.
Withdraw Method of Dafabet Asia
As you see, there is not so many options to withdraw your money from Dafabet Account. So, if you don't want to have any problem, open an account with Skrill.com or Neteller or even Ecopay.
Again If you don't have any account yet, please click the link below to register with Dafabet Asia.
www.dafabet.com
If the link is blocked, try this link